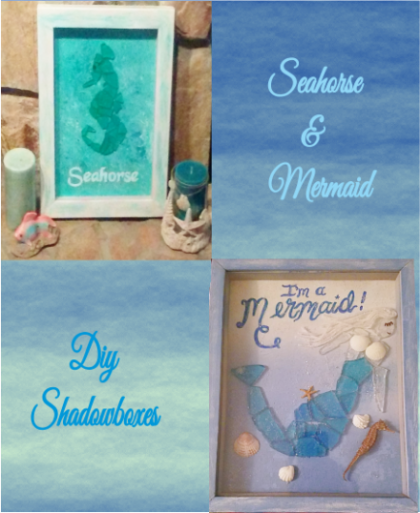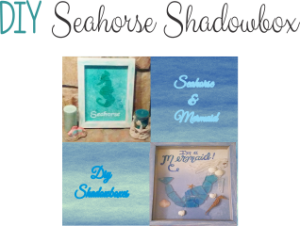 Materials:
~shadow box with paintable back     ~pencil     ~paintbrush(good for lettering)     ~scissors
~plastic wrap(Saran wrap)      ~printed seahorse template     ~paint(I used white, aqua, ocean breeze: craftsmart brand)     ~seaglass(seagreen color)      ~painter's tape     ~hot glue gun, glue sticks     ~optional- white glitter and glue
1- Randomly squeeze 3 ocean colors onto the canvas.
2-Cover with plastic wrap and slightly smear it, then carefully remove the wrap.
3-Use the handle of a paintbrush to make little swirls of the smeared colors,
all over the canvas.
4-Use a piece of plastic wrap(or cotton ball) to make texture by wadding it up
and lightly dabbing it all over the swirled paint.
5-Print out the free seahorse downloadable:
Cut out the middle of the seahorse, then turn it over. Use a pencil sideways,
draw heavy lines across the paper to cover the word seahorse that shows
through from the other side.
6-Turn the paper over, center on painted board, then tape to board. Use the
seaglass to make the seahorse shape by filling the inside of the cut out shape.
7-Use a pencil and trace the outline of each of the seahorse letters, which will
transfer what is drawn onto the board (because of the pencil lines on the back).
8-Carefully remove the template and hot glue the seaglass to the painted board,
one piece at a time, keeping the shape of the seahorse intact.
9-Paint the outline or traced letters with white paint, using a brush(or white paint
pen). *Optional-Let dry, then use glue and white glitter to cover the letters.
10-Paint the shadowbox frame white, then drybrush aqua over the white. *Dry-
brush by getting some paint onto a drybrush, then dab off some it, before
brushing it slightly around the frame. Wipe off some with a paper towel, if
too much paint is applied. When dry, place the seahorse back into the frame.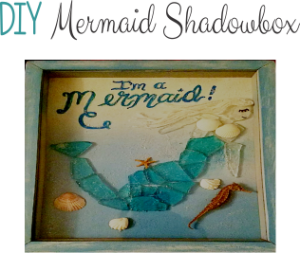 The process to make the mermaid is close to the steps for the seahorse shadowbox, except you will need to change to light and darker blue ocean colored paints, blue and white seaglass, white yarn, black paint or sharpie for the face and various shells. Download mermaid template here:
Free Printable Mermaid For Shadowbox
The canvas is also painted different,like ombre, with the darkest blue on the bottom, a lighter blue, and white blended in on top. After the canvas is painted and dry, follow the same steps for 5-10 as the seahorse shadowbox.  Extra steps are: glue on yarn for hair, shells for the mermaid's top, and shells and things around her to finish it.
**The frame was painted blue, then dry brushed with white for this shadowbox.