Materials:  *8×10 picture frame *white school glue *red, neon pink, neon purple and neon green food coloring *disposable container for faux paint *painter's tape  *foam or paint brush  *hot glue gun/glue sticks   *printed make a splash/mermaid tail template  *gold paint & glitter flakes *gold & white paint pen

Steps:
1-Take the glass out of an old 8 x 10 picture frame.  Print out the mermaid tail template found here:Free Printable "Make A Splash" Mermaid Tail Sign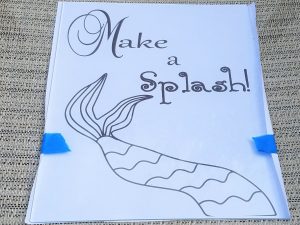 2-Tape the template to the bottom of the glass with the words and tail showing through.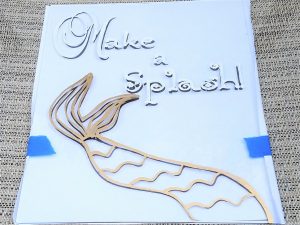 3- Use the white paint pen to trace and color in the "Make a Splash" words.  Then trace the outline of the mermaid tail with the gold paint, not coloring the inside.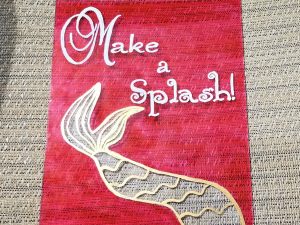 4-Mix 1/3 cup of white glue with 3 drops of pink and 1 drop of purple and 1 of red food coloring.  Turn the glass over and paint all over, except inside the tail, with this "faux sea glass paint", using horizontal strokes.  Let dry and add 1 or 2 more coats.
5- Mix 1/3 cup of glue with 3 drops of green and 1 drop of pink, or pick your on color.  Mix 1/3 cup of glue with 3 purple drops of food coloring.  On the backside of the glass, paint the inside of the mermaid tail with the purple to the outside and the pink/greenish color to the inside, as shown. Use one or two coats.
6-Cover the frame with gold paint. Slowly sprinkle some glitter flakes onto the paint.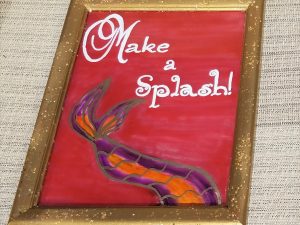 7-Glue the glass to the inside of the frame(I used hot glue, but good craft glue works also),  making sure the words are facing the front.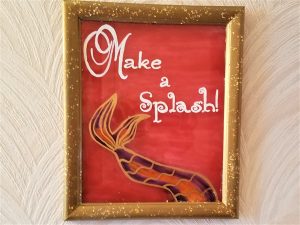 It is finished.  Enjoy!